Jon Acuff (@JonAcuff) joined James Altucher to talk about starting over, always learning, and the one question you should ask a potential mentor. Acuff is on talk about his new book, Do Over: Rescue Monday, Reinvent Your Work, and Never Get Stuck
but also brings up Start: Punch Fear in the Face, Escape Average and Do Work That Matters
and Quitter
.
Their interview begins with Acuff noting that he's "doing a lot of stuff you wouldn't consider dreamy." Austin Kleon (episode #19) told James that "a job is still a job." Sure, Acuff left a major organization to start out on his own, but that doesn't mean he's made it. His job still has meetings (over a kitchen table rather than conference table)  with support staff (his wife) and someone still has to buy the muffins at CostCo before a book signing (that someone is Acuff now.)
Acuff and Amanda Palmer (episode #82) – who calls them ninja gigs – will both have impromptu events where they announce that they'll be somewhere and that people can meet up with them. Sometimes these events don't go as imagined. Palmer tells the story that one time only a handful of people showed up and they hung out at the beach and then went for ice cream. Acuff to had a time with two people came in a ninety minute event. Things are bumpy when you do stuff like this.
But wait, there's more "not dreamy" stuff that Acuff has to do. He tells Altucher that he really stinks at marketing through an email list. It felt like too much self-promotion and was hard he tells James. "Things I'm not good at I don't want to do," Acuff says, "It's not comfortable but that's where i'm going to push through and that and go. If I'm going to develop this skill I'm going to be brave."
Acuff started this version of a choose yourself career while he still had a day job. He would do interviews during his lunch breaks and take vacation days to do speaking gigs. "Eventually you develop relationships with people who say hey, we have a handful of dollars, would you like to speak here" Acuff recounts. James says this is part of the process, "you need to go through the experience of having a crappy job while working on your dream idea."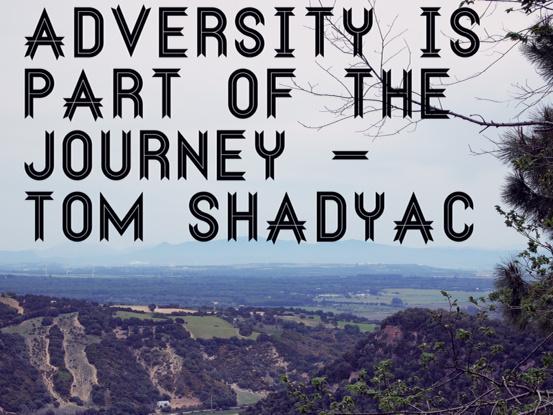 A lot of times we don't want to go through that experience the pair note, "people think they'll quit their jobs and then they'll hustle" Acuff says, noting that it's often more fun to think about the thing, rather than do the work. Amy Poehler wrote
about her experience with this. Her show, Parks and Recreation, was nearly cancelled a number of times, so what did the cast and crew do? "We kept our heads down and did our jobs. We controlled the only thing we could, the show. We did the thing. The talking about the thing isn't the thing. The doing of the thing is the thing."
These challenges only existed because Acuff left Dave Ramsey's wings. He's very complimentary of the people he worked with there and the things he did, but he tells James that he had to leave. "I didn't sleep well for six months" around the decision Acuff says, "even if it's the right decision, when you can't go back it's scary." Ryan Holiday (episode #18) commented on the same thing in his interview. For Holiday is was turning his back on a year of college for a new opportunity.
So Acuff left Ramsey's team and realized – painfully – that he had gotten entitled while working there.  He tells James he had many "learn how to do something moments," like getting the muffins for a book signing.  Jairek Robbins (episode #96) told James the same thing. Robbins wondered at first why his dad didn't give him a heads up that a problem might pop up, and then realized that he had to learn that lesson on his own to actually understand it.
James calls entitlement like this "a disease." Former NBA basketball coach and current President of the Miami Heat, Pat Riley called it the "disease of more." Riley describes it as everyone wanting more after a successful sports season. In the previous season, Riley notes, people will make sacrifices for the good of the team to achieve a certain goal. Once that goal is achieved though, people become more selfish, wanting more for themselves.
James and Acuff reveal that when they write, they try to leave room for two stories. The first story is the one that they are telling, the one about what happened to them. The second story is the story of the reader. How they can relate and empathize and commiserate or celebrate. This room for two is what makes a story good.
Listening to Acuff talk, it sounds like he's got a lot figured out. Not so. "It's taken a long time and I'm still figuring it out" he tells James. One thing he did was align himself to win-win directions. "You gotta find something where, if the money doesn't show up as fast as you want or the results, or the affirmation, you keep going. You can't do it for that because you'll stop as soon as that stuff doesn't show up" he tells James. Altucher says that "every single guest would have said that" and some non-guests too. In his book
, astronaut Chris Hadfield wrote that he had to create a mindset that would provide balance if he never conquered the long odd of making it to space:
"It's probably not going to happen but I should do things that keep me moving in the right direction, just in case – and I should be sure those things interest me, so that whatever happens, I'm happy." – Chris Hadfield
The pair get into the contents of Acuff's book, Do Over. Acuff says that we need a career savings account which is constructed by relationships, skills, character, and hustle.
Relationships. "The people you lock arms with." Adam Grant (episode #73) told James about the value of weak ties and Acuff provides another example about how well they work. Acuff connected with the guy who runs the Southwest social media account and after one thing led to another, Acuff was offered a profile in the in-flight magazine.
Skills. "Relationships get you the first gig, skills get you the second." Acuff says there are new and old skills to build and gives the example of an orthodontist who needs to work on email marketing and social media in addition to knowing how to affix braces. These are hard to build up because, "it's not fun in that moment and your ego comes in and goes, you're only supposed to do things you're great at" Acuff tells James. Chris Hadfield writes about astronauts who were caught unaware that this might happen and struggled in their training. "Early success is a terrible teacher" Hadfield writes, "so when you find yourself in a situation where you must prepare, you can't do it, you don't know how." Acuff had this experience when writing his most recent book. His editor told him that he couldn't just throw in jokes (Acuff cops to this being his crutch) but that they should serve the audience or move the narrative forward.
Character. "Be generous." Try meet-ups. Connect with people. Attempt new things. This is the mindset Acuff advocates. It was in this part of the interview he offered the advice about finding mentors. Don't ask someone to mentor you, Acuff says, instead ask them for a book suggestion. Ramit Sethi (episode #36) told James that the best way to connect with him is to read something he's written and ask a good question about it. Tim Ferriss (episode #22) noted that good connections take time to build and his might go on for years before he asks anything.
Hustle. "Focus, not frenzy." Acuff says that to him, hustle means to be focused with your work, using a scalpel not a saw. In Essentialism Greg McKeown writes that "the essentialist sees boundaries as liberating." Constraints – from ourselves or others – are often a good thing. Even "a lack of money is often an asset" Kevin Kelly (episode #96) told James.
Near the end of the interview the pair talk about how to deal with negative people in our lives. Acuff warns us to be wary of the gossip gang at work. If you spend too much time with them, he says, you'll start thinking and feeling like them. Hadfield knew this all too well as an astronaut, think about having a horrible boss and stuck in the space station with them. In training then, Hadfield tried to never let a bad attitude start. In his book he highlights experiences like being hot and stuck in a capsule to pushing a sled through the snow in the cold. Those instances are prime for negative comments which can swell if they aren't tempered immediately.
And about your horrible boss Acuff says, "every horrible boss is saying I dare you to leave. You get to be frustrated or accept that dare and do the things in the mornings, nights, or weekends that help you leave that boss."
–
Thanks for reading. If I whiffed, waffled, or waxed too long about something, let me know. @mikedariano
If you didn't pick up on it, I'm currently reading An Astronaut's Guide to Life and Earth
and it's very good. One of the best biography I've read in the past few years. There will be plenty more to learn from it and included in these posts.
Acuff tells James he was nervous about talking with him because Altucher has so many good ideas – one of which was the idea list. If you need help starting your own idea list habit, you can find a pay-what-you-want option here. It's a 21 day email series where I give you prompts, suggestions, and research to understand why it's such a powerful habit.