Supported by Greenhaven Road Capital, finding value off the beaten path.
Incentives matter, so what are you measuring? Brendan Harris was a college baseball player and now works in the major leagues in player development. On Wharton Moneyball he talked about measuring the right incentives.
"You had to hit .300 to move up a level. A .300 batting average is now the .370 on-base percentage in terms of what's valued. The same for a .500 slugging percent. If you can continually drive balls into the gap and control the zone you will move up. In the past, you'd have to hit .300, which kind of put you in the mindset of, 'Is a walk really that valuable to me? I can expand the zone a little bit and poke that ball to right.'"
Incentives also explain part of America's opioid condition. Gimlet's Science Vs. podcast on Opioids tells the oscillating story of pain management. Like Goldilocks, we've haven't found just right. The back and forth is jostled too far because of incentive errors.  Physician salaries, for example, were based on the pain scores their patients reported and pain scores were influenced by opioids.
…
Test your assumptions. Last week I made a mistake. A friend noted that it was a dumb thing to do. It was. Of course, it was! If I realized it was dumb a priori I wouldn't have done it. This is true for all our actions. However, some areas give us a glimpse of alternative futures.
In the NFL, for example, teams tend to not go for it on fourth down as often as expected value calculations suggest. Well, the wise coach may say, our team wasn't playing that well today. Now there's an app for that (assumption).
Frank Frigo explained the service his company offers to coaches for when they offer counterarguments.
"There could be a whole slew of arguments you could create. We allow the user to test those assumptions. Let's make your team the worst rushing team in the NFL. Let's make your opponent the best rushing defense in the NFL. Now, let's re-simulate it to see how it affects your decisions…We stress that if you put in extreme counterarguments and it doesn't flip the direction of the decision it's pretty irrefutable evidence that you might be missing something."
This isn't only in sports. Brian Koppelman said that Johnny Chan in the final Rounders movie was Phil Helmuth in the original Rounders script.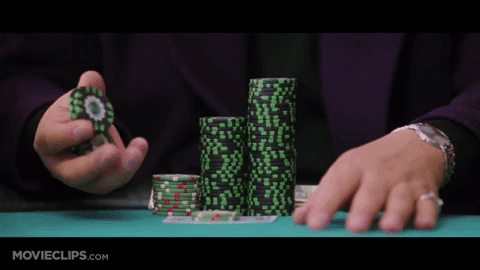 Why change? Director John Dahl asked. Koppelman explained:
"At first I wanted to say 'No' but then Dave (Levien) and I went away and tried it. Which I think all writers, all creators should do. Because our ego is inextricably invested in our work and our initial reaction is often anger and it crowds our thinking."
"John Dahl is an incredible senior officer. As director of the film he could have insisted upon, but he did the opposite. He said, 'Why don't you guys try it?' We went back and we did it and it was immediately clear to us that it was the right choice."
Distance neutralizes eroneous assumptions. It's Wes Gray's advice to plan in system two. David Benioff created distance by pitching title ideas to friends. Sherlock Holmes created distance by pulling down his cap and thinking. Walter Mischel saw students create distance to pass 'the marshmallow test.'
…
Where to get ideas. Twyla Tharp wrote:
"You can't just dance or paint or write or sculpt. Those are just verbs. You need a tangible idea to get you going."
Tharp also calls it scratching.
"Scratching can look like borrowing or appropriating, but it's an essential part of creativity. It's primal and very private. It'a  way of saying to the gods, 'Oh don't mind me, I'll just wander around in these back hallways…' and then grabbing that piece of fire and running like hell."
Benioff found his ideas in Russian journals, a trip to St. Petersburg, Russian ex-pats in Brooklyn, and the public library.
Brian Koppelman said, "In terms of making the characters feel real, we do a lot of research in advance." Billionaires are happy to talk, he said, so long as you don't call them out. Solitary Man, Koppelman said, was a composite too.
Ideas come from being nosey. Ideas come from IDEO-like work. Ideas, said Shawn Coyle, take work.
"In the creative world there's no magic pill, there's no magic solution to becoming more creative, to become better at what you're doing. It's basically learning how to work the most efficiently without letting resistance overwhelm you." – Shawn Coyle
Thanks for reading.